What We Do
– In-Home and Remote Personal Office Assessments Available
– Reduce Pain and Stiffness
– Enhance Posture
– Improve Productivity
– Assistance with Purchasing Ergonomic Equipment
Our Approach
With more people working from home than ever before, there is a growing need for proper home-office setups. If you are experiencing discomfort while working from home, we can help. We offer two solutions for home-office ergonomics. Our Remote Ergonomics Assessment option is perfect for those who are at the computer for a few hours throughout the day and need an overview of proper ergonomics, posture, and workstation setup. Our In-Home Assessment is best for those who are working or learning from home more than 4 hours a day. This provides a thorough evaluation with a customized action plan to improve comfort while at your home workstation. The action plan includes customized exercises, on-site workstation adjustments when feasible, and, if necessary, assistance with purchasing recommended ergonomic equipment.
Our Experience
With over 10 years of experience in ergonomics, we have helped numerous clients across a variety of industries achieve their ergonomic goals. Our expertise ranges from home office environments to manufacturing facilities.
---
PERSONAL HOME ASSESSMENT
In-Home Ergonomic Solutions | $375
We come to your home to assess and observe and develop a successful solution for discomfort or stiffness while working or studying from home.
Virtual Ergonomic Solutions | $199
During your virtual ergonomic assessment, we will observe and develop solutions for a pain-free working environment. Get help in a click with Ergonomic Doc.
1. Analyze
Assess Workstation
Observe Work Habits
Evaluate Client's Concerns
Perform Posture Assessment
Examination of Muscles and Joints
2. Performance Plan
Enhancing Posture Positioning
Customize Ergonomic Exercise Instructions
Improve Posture Positioning
Provide Equipment Options
Assist with Equipment Purchasing
Provide a Letter of Medical Necessity for HSA or FSA Reimbursement
3. Follow Up
30-day email/virtual follow-up to assess progression
Schedule a FREE Consultation Now
Get in touch
Don't wait another day to be Pain-Free!
Our customers always tell us that they had wished they called us sooner! Our mission is to help you feel your best and meet your full potential as soon as possible so you can experience a pain-free work day. Schedule your personal office assessment today!
4714 Kitty Hawk Drive Northeast, Atlanta, Georgia 30342, United States
---
Signs of An Inadequate Workspace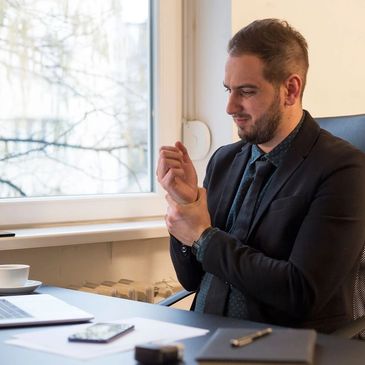 Wrist Pain
Are your wrists always feeling strained or sore? We can help with that!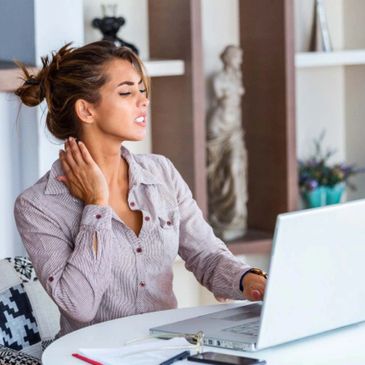 Neck and Shoulder Strain
Are you waking up with neck and shoulder pain and experiencing it throughout your work day?
We have solutions that work! CALL TODAY!
Back Pain
Pain in your lower back?
We will provide you with a full assessment of your workspace and habits to recommend the equipment, office furniture, and adjustments you need to perform at your best.